Toronto Housing Bubble – The Warning Signs have been Flashing
Fitch Ratings
"Estimates that current prices are overvalued by up to 26 per cent in some regions (21 per cent nationally) and nominal prices could fall by up to 10 per cent over the next five years." – Nov 19th, 2013

Link: Canadian housing 21% overvalued, ratings agency says
International Monetary Fund (IMF)
For many OECD countries, however, "the ratio of house prices to rents—a typical measure of house price valuation—remains above historical averages, leaving room for price corrections down the road."
Take a look at Canada in the chart below. The country's ratio is 85% above the average.
Link: According to the IMF, Canada has the most overvalued housing market in the world
Deutsche Bank
"Deutsche Bank estimates that house prices in Canada are overvalued by 60 per cent. That's an average of two different measures: Home prices compared to rent (88 per cent overvalued) and home prices compared to income (32 per cent overvalued). The analysis compares house prices to historical norms."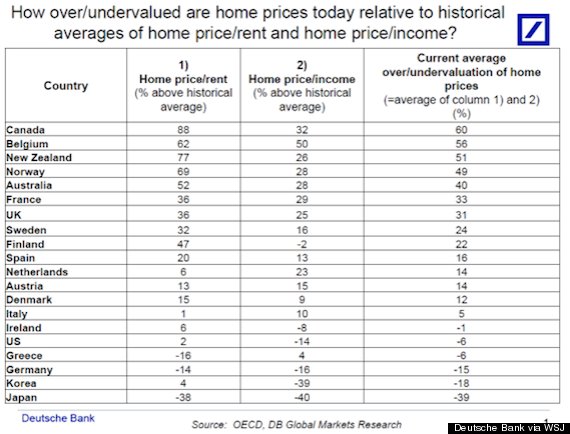 Link: Canada Has Most Overvalued Housing Market: Deutsche Bank
Canadian Federal Government
As part of the Government's continuous efforts to strengthen Canada's housing finance system, the Honourable Jim Flaherty, Minister of Finance, today announced further adjustments to the rules for government-backed insured mortgages.
"Our Government stands behind the efforts of hard-working Canadian families to save by investing in their homes and their future," said Minister Flaherty. "The adjustments we are making today will help them realize their goals, build on the previous measures we have introduced to keep the housing market strong, and help to ensure households do not become overextended. As just one example, the reductions to the maximum amortization period since 2008 would save a typical Canadian family with a $350,000 mortgage about $150,000 in borrowing costs over the life of that mortgage."
The Government is announcing four measures for new government-backed insured mortgages with loan-to-value ratios of more than 80 per cent:
Reduce the maximum amortization period to 25 years from 30 years. This will reduce the total interest payments Canadian families make on their mortgages, helping them build up equity in their homes more quickly and pay off their mortgages sooner. The maximum amortization period was set at 35 years in 2008 and further reduced to 30 years in 2011.
Lower the maximum amount Canadians can borrow when refinancing to 80 per cent from 85 per cent of the value of their homes. This will promote saving through home ownership and encourage homeowners to prudently manage borrowings against their homes.
Fix the maximum gross debt service ratio at 39 per cent and the maximum total debt service ratio at 44 per cent. This will better protect Canadian households that may be vulnerable to economic shocks or an increase in interest rates.
Limit the availability of government-backed insured mortgages to homes with a purchase price of less than $1 million.
Link: Harper Government Takes Further Action to Strengthen Canada's Housing Market
Housing Prices are the Sum of Discounted of Future Rents:
This principle applies to all goods, not simply capital goods, and we must not be misled by similarity of terminology. Thus, capitalization applies to durable consumers' goods, such as houses, TV sets, etc. It also applies to all factors of production, including basic land. The rental price, or rent, of a factor of production is equal, as we have seen, to its discounted marginal value product.

The principle of the determination of "capital values," i.e., prices of "whole goods," is known as capitalization, or the capitalizing of rents.

The capitalized value of the capital good is the sum of the future DMVPs, or the discounted sum of the future MVPs. This is the present value of the good, and this is what the good will sell for on the capital market.

– Man, Economy, and State (p 490- 492) – Murray Rothbard
The logical conclusions
Considering that home prices are just capitalized of rents. If home prices to rent ratios are substantially distorted compare to historical averages (See Deutsche Bank above). Then either home prices must fall or rents will have to rise.